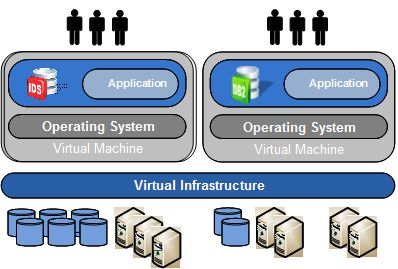 Many organisations across Australia are starting to take advantage of server virtualisation to reduce power, cooling and equipment costs, reduce server administration and downtime, and gain a higher level of server redundancy.
Virtualisation technology enables multiple operating systems and application 'images' to share a single physical server. A virtual server, or what is commonly known as a 'virtual machine', simulates the operations of your servers. This enables an application to run on a machine as it would on a physical server.
Virtualisation is particularly useful if your physical servers are becoming unreliable and costly to manage or you want a better return on your investment in existing server hardware. It may also enable you to make better use of your existing servers by improving resource usage while reducing IT costs across your organisation. Importantly, your end users won't notice a thing.
If you think your business might benefit from server virtualisation, why not take advantage of our Virtualisation Assessment service? Aurumtek's specialists use tools to determine how many physical servers can be consolidated across your infrastructure and identify where you can make cost savings by leveraging virtualisation technology
To make an enquiry about our IT Services, Cloud Computing and full range of IT solutions, please:
Latest Tweets
This user has reached the maximum allowable queries against Twitter's API for the hour.
What do our customers say
"Aurumtek provides Base with prompt & friendly support along with excellent reporting on all aspects of our IT infrastructure. Any issues we have are always promptly dealt with."
-I Polovieo,
"The professionals at Aurumtek Provide excellent service on the full range of IT issues. They are reliable, knowledgeable and operate to the highest standards. I highly recommned them!"
K Hobgood-Brown, MD of Riverstone Advisory